The State Of Music: Part 2: Maine - Lady Lamb The Beekeeper
Welcome To Maine - I'll be honest friends of the Pine Tree State, I had no idea where Maine was in the general scheme of the United States of America. Well it's at the top. On the right. Take a left at New Hampshire it would seem.
This afternoon I asked for some nice Maine facts from the @choosemymusic account followers. The ranged from 'My Mum was born there' to the state having a Hula Hooping Day on the 8th October this year.
Not only are we discovering new music on this crazy adventure but we are also learning things. Learning is good.
Lady Lamb The Beekeeper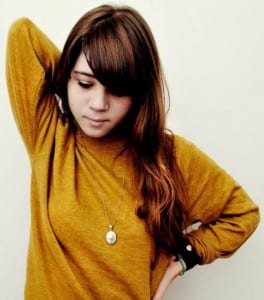 BUY ON BANDCAMP Download $10 (£6 approx)
There are not many people who would have the gumption to kick off their album with a track topping 10 minutes...well not this side of the awful prog rock generation of the late 1960's and early 1970s
To be honest Lady Lamb The Beekeeper go one better and the first 4 minutes or so of that track is a solo vocal. Take that Van Der Graaf Generator.
I don't know how else to describe this album other than enjoyable. I guess in the modern age and with the rebirth of folk, it might find itself categorised under the genre, but there just feels there is more to it than that. Something I cannot quite put my finger on. I mean that absolutely in a good way.
The recordings on the Mammoth Swoon album are songs previously unreleased tracks or simple, yet beautiful 'bedroom' recordings. This only adds to the loveliness of it all. If the rawness of some the tracks are not your thing, Lady Lamb The Beekeeper have other full length albums.
As per the plan in this series of mine I have an interview with the lovely Lady Lamb The Beekeeper - but before that, how about some music to listen to while you read on?
CMM: Welcome to Choose My Music. Could you give me a quick run down of who Lady Lamb The Beekeeper is and where in the world are you?
LL&BK: I'm a musician and songwriter from Maine, now living in New York. I'm 5'2" and I love french fries, backgammon, wooden roller coasters, & ampersands.
CMM: How would you best describe the state of Maine?
LL&BK: Maine is in a word, beautiful. People who have never been to Maine tend to think of it as a mystical place. In their minds it's stunning and magical. I've talked to many, many people who share this idea of Maine in their minds..and they're right. It's a very special state. I'm originally from the coast of Maine in the southern part of the state, and it smells like lilies and salt water.
CMM: Is Lady Lamb The Beekeeper a full-time thing or do you have a 'proper job'?
LL&BK: Lady Lamb the Beekeeper is my one proper, full-time job!
CMM: How and when did you start recording your own music and what other project have you been involved in prior?
LL&BK: I've been writing and recording my own music for four years now, and it's the only musical project I've been involved in so far.
CMM: How best would you describe your music?
LL&BK: My music is loud and soulful, sprawling songs full of words and tempo changes, while still melodic and accessible.
CMM: What is the music scene like in Maine right now? Any other top bands we should be looking out for?
LL&BK: The music scene in Maine has been, and currently is great. I'd say look out for The Milkman's Union and Jacob Augustine, both from Portland, Maine.
CMM: One thing I am hoping to find in this series is some kind of link between where a band is based and their location. Do you feel as an artist you are influenced by your surroundings and the scene around you?
LL&BK: I am absolutely influenced by where I am from, yes. I wouldn't be quite where I am now if it hadn't been for starting out in Portland, Maine.
CMM: What other influences do you feel you have, musical or otherwise?
LL&BK: My other influences besides my home are dreams, nostalgia, & unrequited love.
CMM: Are you self releasing your music and if so are you looking to assign yourself to a label or is doing your own thing the way forward?
LL&BK: I've been self-releasing my material since I started making it. I am currently recording new material that I am planning on self-releasing, but am open to new ventures for this release. I do enjoy being 'in charge' and doing it all myself, it feels really good, but I'd also like to be more widely distributed which I need help with.
CMM: Do you often get out to play live much - where are your favourite places to play - either in Maine or anywhere else.
LL&BK: I play shows often, and my favorite places to play are mostly in New York and Maine…I love SPACE gallery in Portland, Maine; The Oax + The Ax in Biddeford, Maine; The Bellhouse in Brooklyn, New York; & The Knitting Factory in Brooklyn, New York.
CMM: Your last album was released in 2010, anything else in the pipeline?
LL&BK: Yes! It's a bit underwraps right now, but soon!
CMM: And finally, where can people reach out to you online and where can they get hold of your stuff?
LL&BK: You can keep updated with news and show listings through the Lady Lamb the Beekeeper Facebook page (link) or ladylambthebeekeeper.com and you can get ahold of recordings through itunes and bandcamp!